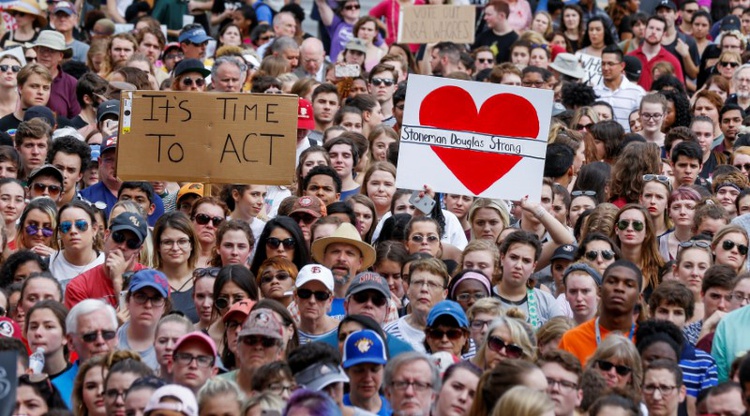 Huge rallies led by students demand tighter U.S. gun controls
Hundreds of thousands of Americans galvanized by last month's Florida school massacre rallied in cities across the country on Saturday to demand tighter gun laws.
The protesters carrying signs with slogans such as "If they choose guns over our kids, vote them out," in Washington jammed Pennsylvania Avenue as students from the Parkland, Florida, high school where 17 people were shot to death called on lawmakers and President Donald Trump to confront the issue.
The massive March For Our Lives rallies, some led by student survivors from Parkland, aim to break legislative gridlock that has long stymied efforts to increase restrictions on firearms sales in a nation where mass shootings like the one on Feb. 14 at Marjory Stoneman Douglas High School have become frighteningly common.
"Politicians: either represent the people or get out. Stand with us or beware, the voters are coming," Cameron Kasky, a 17-year-old junior at the high school, told the crowd.
Another Parkland survivor, David Hogg, said it was a new day. "You can hear the people in power shaking," he said to loud applause.
"We're going to make sure the best people get in our elections to run not as politicians, but as Americans. Because this – this – is not cutting it," he said, pointing at the white-domed Capitol. "We can and we will change the world!"
Youthful marchers filled streets in cities nationwide including Atlanta, Baltimore, Boston, Chicago, Los Angeles, Miami, Minneapolis, New York, San Diego and St. Louis.