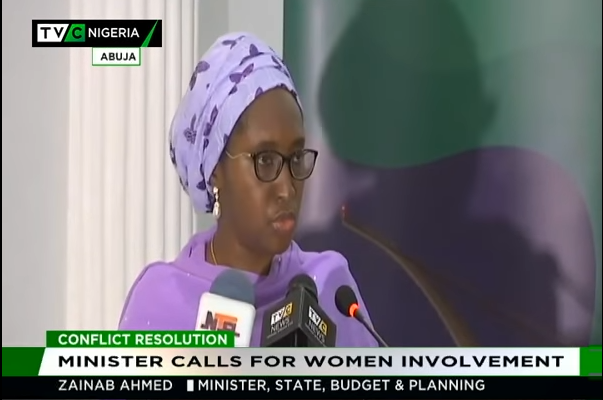 The Minister of State, Budget and National planning, Zainab Ahmed, plans to involve women in conflict resolution, because they are most vulnerable in conflicts. 
She believes the move will aid peace and national development.
Mrs Ahmed said this at the launch of the pilot phase of the Policy Advocacy and Dialogue tagged "Road to Peace " in Abuja.
The Policy Advocacy and Dialogue is an initiative of the like minds project, launched to encourage discussions on pressing issues in the society.
It kick starts the first in its series of discussions in Abuja in Partnership with the Irish Embassy and the National Defence College.
The discussion is focused on sharing lessons of the Northern Ireland peace process,  overcoming the 30years  Civil War which changed the structure of the Irish Society.
The Minister of State, Budget and National Planning, who is present at the event, calls for more involvement of women in the Peace Process.
She adds that women are the most vulnerable when  found in conflict areas.
Other speakers offer inspired ideas, practical examples and advice on how peace can be attained in Nigeria.
It is expected that at the end of this discourse, participants will derive effective strategies towards addressing conflict issues across  Nigeria.