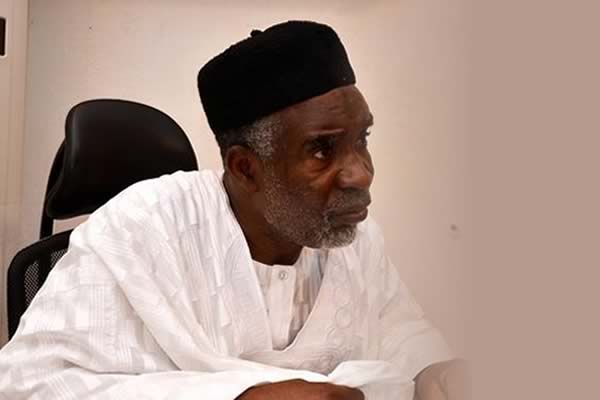 Former Governor of Adamawa State, Vice Admiral Murtala Nyako (rtd), has advised the All Progressives Congress to address the controversial elongation of the tenure of its national chairman, Chief John Odigie Oyegun and other executives.
Nyako, who was addressing thousands of party faithful in Yola posited that only fairness, legality, justice and rule of law could sustain the APC ahead of next year's polls. He urged the APC leadership to retrace its steps before it's too late.
Correspondent Owolabi Adenusi reports that Nyako who had temporarily relocated to Abuja after his impeachment was given a rousing reception in Yola by All Progressives Congress faithful.
He paid a sympathy visit to the family of the deceased first civilian governor of the state, Alhaji Saleh Michaka before addressing his supporters who he assured of his imminent return to the state to continue active local politics.
The former governor said the only way to tackle the lingering crises within APC over tenure elongation for Oyegun and other states' executives is to organise a convention, noting that anything contrary to this would be an exercise in futility.
According to him, if the right step is not taken urgently, APC may end up becoming a spectator instead of participant in the 2019 elections. He advised the party to learn from the collapse of Peoples Democratic Party (PDP).
He affirmed his confidence in the Asiwaju Bola Tinubu reconciliation committee to which he belongs, adding that the committee has all it takes to put the party on the right track.
Nyako, who stated that only fairness, legality, Justice and rule of law could sustain the APC ahead of next year's elections, advised party members to learn from the travails of the Peoples Democratic Party (PDP) in the 2015 polls before it is too late.
He described lack of continuity in government as a major factor responsible for Nigeria's underdevelopment, calling on political leaders to draw up a blueprint to propel the country to greatness within the next 25 years.
Some chieftains of the party who spoke with TVC News appealed to party heavyweights to give the Asiwaju Tinubu committee a free hand to carry out its assignment. They insisted that they have officially communicated to APC national secretariat the abnormalities in the state executives of the party.
The Murtala Nako structures brought incumbent Adamawa state governor, Jibrilla Bindow to power in 2015. It is believed that it still retains the political clout to determine who becomes the governor in 2019.