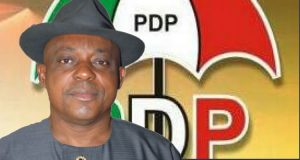 The opposition Peoples Democratic Party, PDP, has reflected on its sixteen-year stewardship and admits it made some grave mistakes while in government.
The party is asking Nigerians for forgiveness for any harm caused to the nation and its people.
National Chairman, Uche Secondus, disclosed this at a public engagement on contemporary politics and governance in Nigeria, organized by the party in Abuja.
Speaking on nation building and resetting the national agenda, Secondus and other PDP leaders pledged the party's readiness to learn from its mistakes, arguing that regardless of what the party failed to do, experience remains the best teacher.
Reacting to PDP's apology to Nigerians, the Federal Government has asked the party to return all the funds looted from the public treasury under its watch during its 16 years in power.
In a statement issued in Abuja, Minister of Information and Culture, Lai Mohammed, challenged the party to show the genuineness of its apology through a discernible change of attitude.
Mohammed also told the PDP leadership to press the reset button and stop sabotaging the work of President Buhari's administration but play responsible opposition politics.