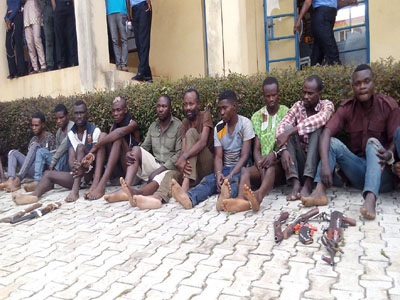 The Sokoto State Police Command has paraded one Idi Abdullahi, a citizen of Niger Republic, in possession of fire arms and ammunition along the Nigeria/Niger republic border.Parading the suspect alongside others, Police Public Relations Officer, Cordelia Nwawe, said Abdullahi claimed to have come into Nigeria for hunting, but police investigation has proven that to be untrue.
TVC News Suleiman Nasir reports that Idi Abdulahi is from Dogon Dutse town  in Niger Republic and is one of the suspected criminals the Sokoto state Police command paraded at a press briefing in the command headquarters in Sokoto
According to the Command, Abdullahi was arrested at the border on his way into Nigerian territory with a pump action gun, a Pistol and plenty of ammunition.
The police said he  claimed to have been invited by some Nigerians for a hunting expedition, but police investigation has proven that claim to be untrue but the suspect insists, he was not in Nigeria to commit any crime,
He said he was cleared by security personnel at the two previous entry points into Nigeria from Niger Republic before he was stopped and  arrested along side his men at the last entry point in Nigeria.
Other suspected criminals paraded include one Abubakar Aka who was suspected have impersonated the police for several years before he was finally arrested.
The police also  paraded one malam Bello who was suspected to have used the name of a serving Senator to defraud unsuspecting members of the public, collecting money for a scholarship programme that never existed.
The Police Commissioner, Sokoto state command, Murtala Usman Mani, has vowed to make life unbearable for all criminals operating in the Seat of the Caliphate.
The Association of Professional Bodies of Nigeria (APBN) has lamented the high rate of brain in the country, blaming the situation on the inability of the government to create an enabling environment.