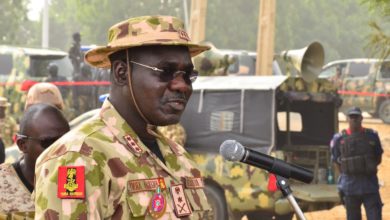 Chief of Army Staff, Lieutenant General Tukur Buratai has said no stone will be left unturned in the search for the abducted Dapchi schoolgirls.
He refuted claims that the girls abduction by suspected Boko Haram insurgents has cast a dark shadow on the military's fight against terrorism.
Buratai spoke at the inauguration of the newly completed office complex in the 6 Division of the Nigerian Army in Port Harcourt.
He said the army and other security agencies are fully focused on reuniting the missing girls with their families soon.
"The search for the 110 missing school girls from Dapchi is an ongoing process."
"Definitely, everybody is concerned and we are doing our best in finding the missing school girls".
Buratai also debunked the claims that the Boko Haram insurgents had regrouped and now controlling a large territory in the North East Zone.
He said there was "nothing like resurgence", adding that "one or two incidents'' could not be interpreted as resurgence.
"It is the responsibility of everybody to join hands and knowing that it is not entirely a military responsibility but a collective task.
"Every facet of our society needs to be part of this fight against terrorism. It is a national disaster and calamity which we must all join hands to defeat," Buratai said.
He said the media has an important role to play, urging it to set the agenda for national unity and peace with focus on ending insurgency and terrorism in the country.