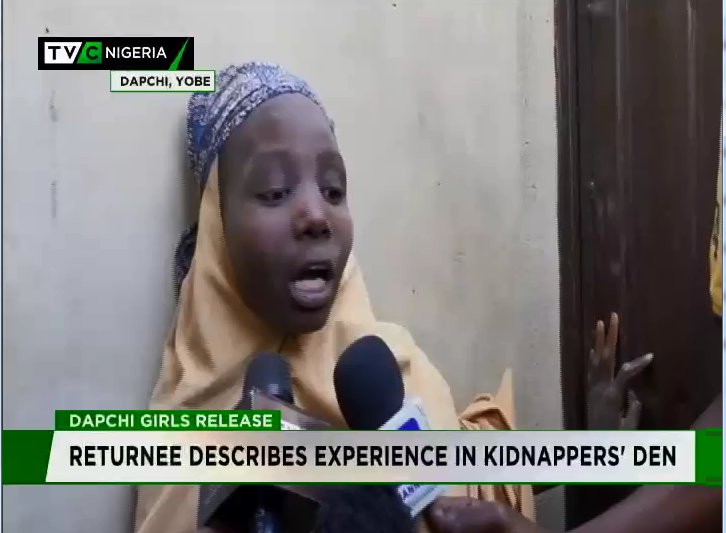 One of the 101 Dapchi schoolgirls freed by Boko Haram on Wednesday has said the 5 others that died were not killed by Boko Haram militants.The girls were plucked from their school nearly two weeks ago, echoing the Chibok girls abduction that caused global outcry more than two years ago.
But after many days of waiting, no fewer than 101 of the girls abducted last month from Dapchi in Yobe State were driven to the centre of the town and released by their captors.
There was jubilation in the community; but not all the girls kidnapped made it out. When they were abducted, the Federal government said 110 of them were taken. At least one girl is known to remain in captivity.
Khadija Grema, one of the freed girls said the 5 others died because of stress and trauma.
"There were five of us that died. Those that died were not killed by Boko Haram, they died because they were trampled upon. It was stress and trauma that made them tired and weak."
Meanwhile, President Muhammadu Buhari has asked four ministers to go to Dapchi , to get a first hand assessment of the schoolgirls released by Boko Haram.
They ministers are Defence minister, Mansur Dan-Ali, his Interior counterpart, Abdulrahman Danbazau, Information minister, Lai Mohammed, and Minister of State for Foreign Affairs, Mrs. Khadijat Abba-Ibrahim.
Before his departure, Information minister, Lai Mohammed said the girls were released unconditionally.
But a security analyst is worried abduction may become an industry in Nigeria following government's approach of negotiating the release of abductees.
Kabiru Adamu says the most valuable approach should be prevention, and canvasses a systemic approach in ensuring schools are safe.