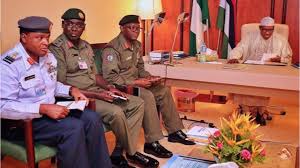 Senators have advised President Muhammadu Buhari to inject fresh ideas into the security architecture of Nigeria by first sacking his security chiefs over prolonged killings by terrorists especially within the north central region. They made the observation at Thursday's plenary during a motion on renewed killings in Nasarawa state that led to the death of thirty two persons as revealed by Senator Suleiman Adokwe.
TVC News National Assembly Correspondent Sumner Sambo reports that the killing of 32 persons in Awe, Keana and Obi local government areas in Nasarawa has got Senator Suleiman Adokwe seeking the Senate's intervention by directing the military to halt the killings.
Other senators took turns to condemn the killing of Nigerians across the country with little or no intervention by the police or military.
But some senators want President Muhammadu Buhari to bring in fresh ideas by sacking his military service chiefs and overhauling the entire security architecture through new appointees and provision of weapons to tackle herdsmen militia.