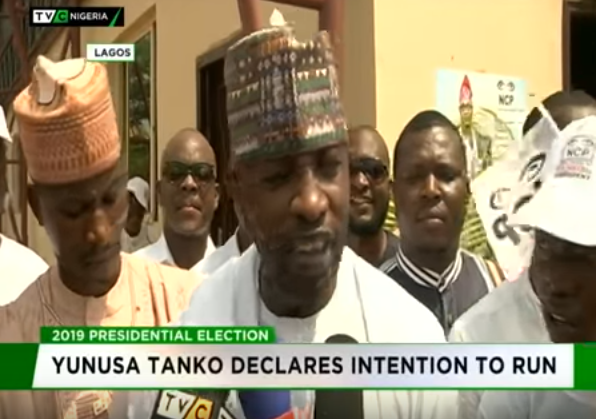 The National chairman of the National Conscience Party, NCP ,Yunusa Tanko, has declared his intention to run for the 2019 presidency.
He also promised to deliver a 10-point agenda that will alleviate poverty in the country, if he becomes president.
Tvc's senior political correspondent Ayodele Ozugbakun reports that the former Vice presidential candidate on the platform of NCP,  who declared his intention before a full house of pressmen and civil rights activists, highlighted a 10-point programme to include employment, food , health,water , electricity, telecommunications and security.
Yunusa said the state of insecurity in the country is compounded by what he termed executive lawlessness, blaming the government for having no answer to mounting ethnic intolerance and communal classes.
other members of the party are optimistic the party will emerge tops in 2019 with its people-oriented programmes.
The National Conscience Party formed by the late Gani Fawehinmi in 1994 was prevented from standing in elections until 2003, when it won a legal battle and ever since then, the party has chosen to serve as the voice of the people.