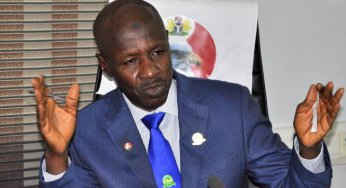 The assailants who attacked the Abuja farm house belonging to the acting chairman of the EFCC, Ibrahim Magu, were looking for money.
Three of them, including an Airforce man, arrested by the police, said they were made to believe that wads of cash were concealed in the house.
Sifon Essien reports that the suspects confessed to their involvement in the crime, saying they got
the information from a motorcyclist in the neighborhood.
Mobile phones including rifles were among the items recovered from the suspects.
The police said investigation is on to determine how many more persons were involved in the crime.