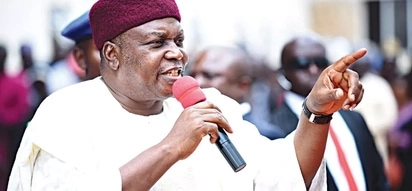 Taraba State government has accused the military of withdrawing its troops from the volatile Takum and Donga local governments in the southern part of the state without explanations.
Speaking in an interview with TVC News on Saturday, the Media Adviser to governor Darius Ishaku, Emmanuel Bello said the residents of these two local governments woke up early Saturday morning  to find out the military were no longer seen across the strategic  locations in their communities.
Bello said the unceremonious  withdrawal of the military at the time armed bandits are scaling up attacks in the area is worrisome and calls for quick attention.
" The military has withdrawn it troops from Takum and Donga local governments. Residents of these councils woke early this morning (Saturday) to notice this and up till now, no reason has been given by the military.
" It is worrisome that inspite of the State government's pledge to work with the military and other other agencies to guarantee the safety of lives and properties of the people, the military could suddenly withdraw unexpectedly like this."
Responding on whether the Operation Cat Race in the state has been successful, the governor's Media aide said only the people can judge.
" I think we will leave our people to judge on whether the Operation Cat Race has been successful or not. What I know for sure is that the state government is ready to partner any agency that will help bring lasting peace to the state. However, if despite the ongoing operation in the state, we could still record the attack we recorded few days ago, what would happen now that the military has withdrawn its troops," Bello said.
While admitting that troops' withdrawal might be a military strategy, Bello said the government is worried about the communication gap between the military and the state  government  in the state. He however urged the military authority  to look into this development in order to avert likely attacks on innocent lives in the state.
As at the time of filing this report, the military has not responded to the allegation, neither are the troops back to the affected local governments.