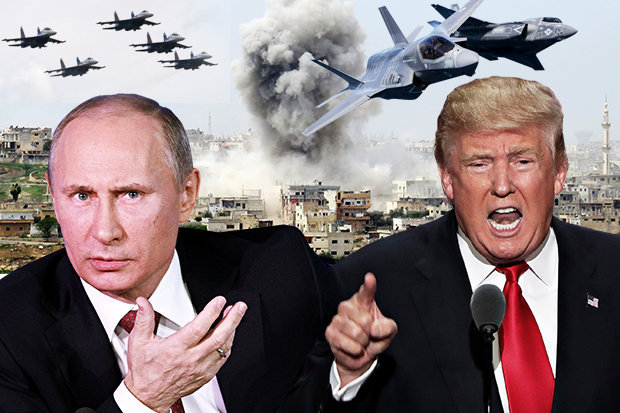 Threat of U.S.-Russia clash looms over Syria
The prospect of Western military action in Syria that could lead to confrontation with Russia hung over the Middle East on Friday but there was no clear sign that a U.S.-led attack was imminent.
International chemical weapons experts are in Syria to investigate an alleged gas attack by government forces on the town of Douma which killed dozens of people. Two days ago U.S. President Donald Trump warned that missiles "will be coming" in response to that attack.
The allies of Syrian President Bashar al-Assad were eager on Friday to lay blame for the crisis not with him but with Trump.
Russian Deputy Prime Minister Arkady Dvorkovich said international relations should not depend on one person's morning mood, in apparent reference to Trump's tweets.
"We cannot depend on what someone on the other side of the ocean takes into his head in the morning. We cannot take such risks," said Dvorkovich, speaking at a forum.
Russia has warned the West against attacking Assad, who is also supported by Iran, and says there is no evidence of a chemical attack in Douma, a town near Damascus which had been held by rebels until this month.
Vassily Nebenzia, Moscow's ambassador to the United Nations, said he "cannot exclude" war between the United States and Russia.
"The immediate priority is to avert the danger of war," he told reporters. "We hope there will be no point of no return."
Foreign Minister Sergei Lavrov said Moscow was in contact with Washington but the atmosphere was alarming. "God forbid anything adventurous will be done in Syria following the Libyan and Iraqi experience," he told a news conference.
Sheikh Naim Qassem, deputy leader of the Iranian-backed Hezbollah, told Lebanese daily al-Joumhouria: "The conditions do not point to a total war happening …unless Trump and (Israeli leader Benjamin) Netanyahu completely lose their minds."
U.S. allies have offered strong words of support for Washington but no clear military plans have yet emerged.
British Prime Minister Theresa May won backing from her senior ministers on Thursday to take unspecified action with the United States and France to deter further use of chemical weapons by Syria.
Some national leaders appeared anxious to avert a U.S.-Russian showdown.
Emmanuel Macron said on Thursday France had proof the Syrian government carried out the Douma attack and would decide whether to strike back when all necessary information had been gathered.
But on Friday he appeared conciliatory. Macron's office said he spoke by phone with Russian President Vladimir Putin expressing concern about the deterioration of the situation in Syria and calling for more dialogue with Moscow.
NATO members Germany and the Netherlands have said they will not take part in any military action.
Tayyip Erdogan, president of Syria's neighbor Turkey, said on Friday he had spoken by phone with Trump and Putin and told both that increasing tensions in the region was not right.