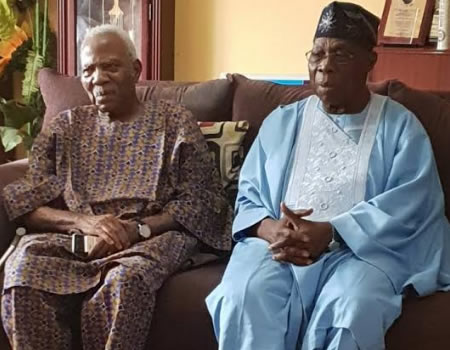 Former President Olusegun Obasanjo on Monday visited the leader of the Afenifere, Pa Reuben Fasoranti at his country home in Akure, Ondo State after over 20 years of such meeting, supposedly for coalition talks.The meeting, which was held behind closed doors for about 30 minutes, was believed to be ahead of 2019 election and way forward for the Yoruba race.
Obasanjo did not say why he was there, but the Afenifere leader voiced his support for the reported alliance of political parties to dislodge the APC.
Fasoranti said the senseless killings by herders have shown that President Buhari has failed Nigerians.
Addressing the media, the Afenifere leader said Obasanjo came to pay a courtesy visit, saying he appreciated all his efforts about Nigeria, particularly the Yoruba nation.
"He has come now because he values my friendship," he said.
Although Fasoranti said there was no discussion about the 2019 election, he, however, said he supported the letters written to President Muhammad Buhari to protest the indiscriminate killings in Nigeria by herdsmen and sectional fight against corruption.
"We are in full support. We are dissatisfied with the mode of governance, we are dissatisfied," he said.