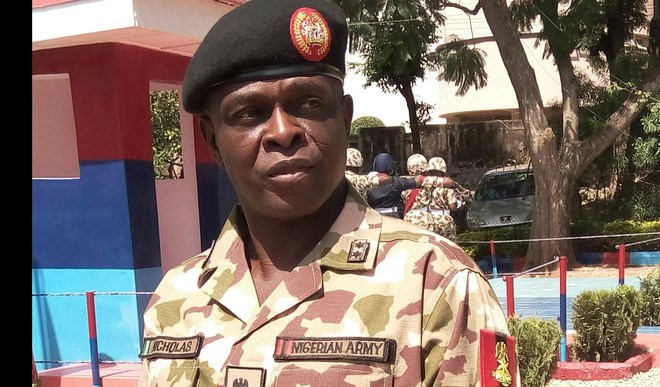 Theatre Commander of Operation Lafiya Dole, Major General Rogers Nicholas has dismissed Amnesty International's rape allegation against the military, as an attempt to undermine the military and the Nigerian State.
Gen. Nicholas reacted to the amnesty report which indicted the military shortly after he toured field troops in the liberated towns of Gulak, Michika and Mubi in Adamawa State.
Correspondent, Owolabi Adenusi reports that the Theater Commander of Operation Lafiya Dole, Major General Rogers Nicholas, vehemently dismissed the amnesty report, saying it was a deliberate attempt to rubbish the success of the military campaign against Boko Haram terrorists.
Nicholas observed that the report was a recycled stale allegation which was first made back in 2015. He wondered why the same allegation is coming up at the time the military was winding up its successful campaign against the terror group.
On his visit to Adamawa State, General Nicholas, interacted with troops of 1-4-3 rangers battalion in both Michika and Gulak where he charged them to remain high in spirits, assuring them that the army high command was committed to their welfare.
He also informed the troops that the high command had concluded plans to reshuffle the troops who are in the war front so they could return home to their families.
At the 2-3-2 battalion in Mubi and the 23 brigade Yola, the commander inspected guards of honour and equally boosted the morale of officers and men, urging them to be committed to the war against terrorism.
The Theatre Commander was at the palace of the emir of Mubi to condole him on the recent twin bomb blasts that killed 29 people and wounded 56 others. He also sued for a stronger synergy between the military and the traditional institution in the war against terror.