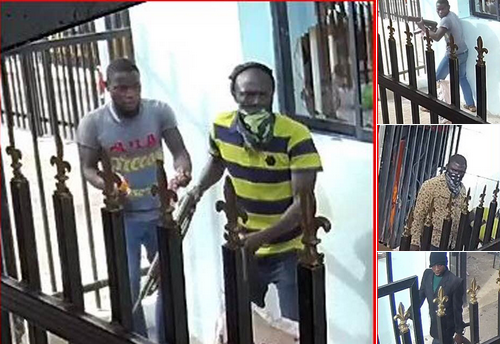 The Nigeria Police Force has arrested twenty principal suspects linked to the Offa Bank robbery in kwara state.
The Police also released photographs of four wanted suspects, and announced a N5m (Five Million naira) reward for anyone with information that could lead to their arrests.
The number to be contacted are 08062080913, 08126285268, 08032365122, 07056792065, 08088450152.
Two Pistols, 20 rounds of Live Ammunition and Four Phones and SIM cards belonging to victims, some of whom were killed during the attack were recovered.
The state police command released the photos of the robbers from the CCTV footage of the bank.
Speaking on the recent development, the Assistant Commissioner of Police, Moshood Jimoh, said
"All the suspects are cooperating with the Police in the investigation into the incident. Currently, some of the other gang leaders and principal suspects at large are being identified and their pictures obtained for further investigation. Other sister security and safety agencies are equally implored to arrest them and hand over to the nearest Police Station or Formation across the country or avail the Police with any information they may have or come across about these suspects" he said
The police asked for public help to apprehend the gangsters still at large and said they have also been placed on INTERPOL Watch list and Red Alert.