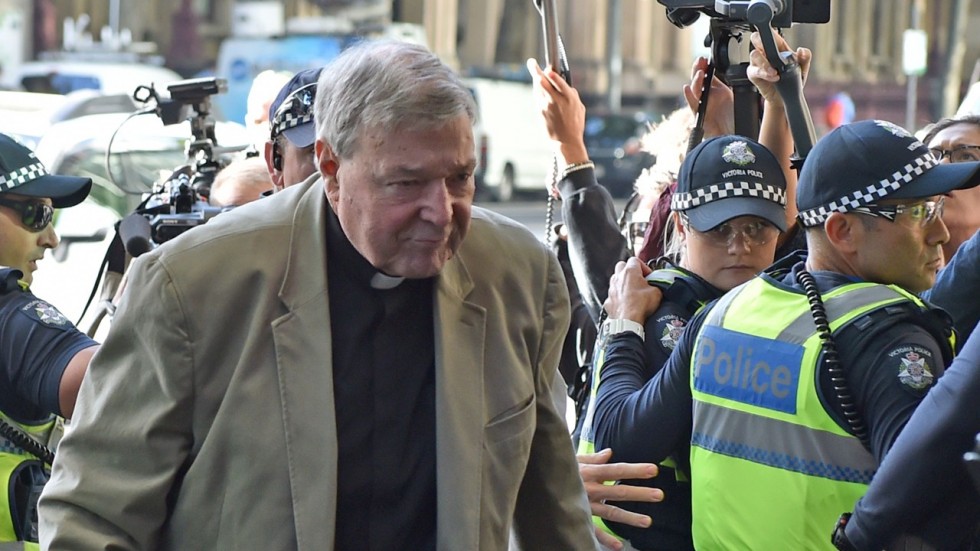 Vatican finance chief to stand trial for sex offence charges
Cardinal George Pell will stand trial on historical sexual offence charges, an Australian court ruled on Tuesday, making him the most senior Catholic cleric to face a jury in relation to abuse scandals that have dogged the Church for decades.
Cardinal Pell, who is one of Pope Francis's most trusted advisers, has pleaded not guilty to the charges, which include allegations of sexually offending at St Patrick's Cathedral in the 1990s when he was the archbishop of Melbourne, and at a swimming pool in the Victorian city of Ballarat during the 1970s.
Following a one month pre-trial hearing, magistrate Belinda Wallington struck down some of the allegations against the 76-year-old cleric, ruling there was insufficient evidence.
She ordered Cardinal Pell to appear in the Melbourne County Court on Wednesday, when it would be determined how the trial on the remaining 10 charges would proceed. Cardinal Pell did not speak to the media when he left the courtroom, flanked by police and his legal advisers, according to Australia's public broadcaster.
But a statement issued on his behalf by Sydney's Archdiocese said he would defend the remaining charges and steadfastly maintained his innocence.
"He would like to thank all those who have supported him from both here in Australia and overseas during this exacting time and is grateful for their continuing support and prayers," the statement said.
Cardinal Pell is on leave from his position as prefect of the secretariat for the economy; he is the Vatican's third-highest official. Appointed to clean up the Roman Catholic Church's finances, the case has undermined Pope Francis's efforts to draw a line under sexual abuse scandals.
A series of international probes into the Church's handling of sex abuse uncovered evidence that paedophile priests were regularly moved among parishes rather than defrocked and referred to police. In a December 2016 letter to bishops, the pope said there was "zero tolerance" for child sexual abuse by clergy.
Cardinal Pell has appeared several times at a long-running Australian government-commissioned inquiry into institutional responses to child sex abuse, most recently via video link from Rome. During that appearance Cardinal Pell denied he knew about abuse perpetrated by paedophile priests in Ballarat in the 1970s and 1980s.
He has also denied claims that he has tried to "silence" a victim of abuse. When news of the police probe into allegations of sexual offences perpetrated by Cardinal Pell emerged last year, the cleric formally requested an inquiry into the "maliciously timed leaking of details".
The court was told on Tuesday that Cardinal Pell had handed over his passports and was on bail.