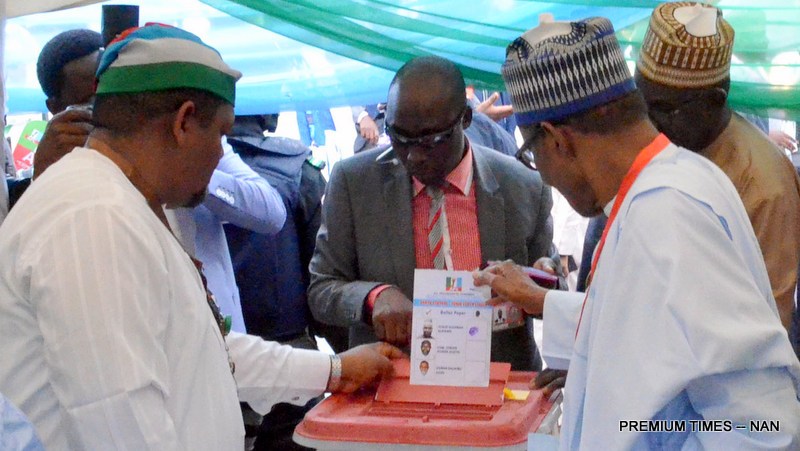 Delayed collation of results at day two of the ongoing national convention of the ruling All Progressives Congress (APC) has forced top leaders of the party led by President Muhammadu Buhari, Vice President Yemi Osibanjo, National Leader, Bola Tinubu among others to go on a two-hour recess while officials finalize the process.
In addition, the party leaders are taking the break to allow for Muslim prayers, lunch and continued engagement with party faithful.
The delay in release of result is partially linked to the tough contest for the position of National Organizing Secretary by incumbent Senator Osita Izunaso and Emma Ibediro who is an associate of Governor Rochas Okorocha from Imo state.
The position was zoned to the Southeast but Governor Okorocha is adamant on ensuring the defeat of Izunaso who is part of the APC faction in Imo state that have wrestled control of the state party executive from him since the last local congresses.
Senator Izunaso has the backing of Okorocha's deputy, Eze Madumere who is leading a counter offensive against his boss with two serving senators and other party leaders in Imo state behind their faction.
The two groups both concocted a unity list of consensus candidates from the Southeast that was circulated on Saturday among delegates from the geopolitical zone all in a bid to ensure a grip of the APC in the zone in preparation for the 2019 general election.
While collation is currently on, the Governor Badaru Abubakar-led convention sub-committee on election is hastening the process to ensure that the final result of elected national officers of the APC is announced soonest.
As eager party faithful await the result, the national convention of the APC has been described as the longest by any major or ruling political party since the beginning of the fourth republic.
After pleas for a consensus candidate earlier failed, APC leaders are said to have insisted that only statutory delegates would be allowed to vote hence the pro and anti-Okorocha factions claiming to be the authentic executive of the party in Imo state will not be allowed to vote.