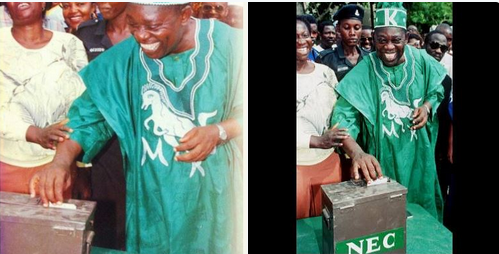 The Senate on Thursday asked the Independent National Electoral Commission, INEC, to count and declare the result of the June 12, 1999 presidential election.
The Senate also want Abiola and his Vice Presidential candidate, Babagana Kingibe to be accorded all entitlements due to the office of the President and Vice President.
The Senate thanked President Muhammadu Buhari for honouring Chief Abiola, Kingibe and foremost human rights and pro-democracy activist, Chief Gani Fawehinmi. It also agreed with the presidency that henceforth June 12 should be celebrated as Nigeria's democracy day but noted that despite the new development, May 29th remains the day for handover and inauguration of new governments.
The motion was earlier moved by Senator Lanre Tejuoso representing Ogun Central but due to the inadequate prayers expressed therein, another motion was moved by Senator Biodun Olujimi representing Ekiti South with broad prayers to honour the late Chief MKO Abiola and others mentioned.
Senator Dino Melaye representing Kogi West had earlier expressed reservations that the national honours act was not properly followed by the presidency before the announcement was made by the presidency but Senate President Bukola Saraki  said the good intentions of the decision far outweighs the defects but that the issue will be properly considered at the right time. The Senate President's observation was unanimously adopted and all prayers in the motion granted by the Senate.
However, in the House of Representatives, the declaration of June 12 as new democracy was greeted by rowdy session amongst lawmakers.
It would be recalled that late Chief MKO Abiola of the then Social Democratic Party, SDP, defeated his opponent, Alhaji Bashi Tofa of the then National Republican Convention, NRC in the historic election devoid of ethno-religious sentiments for the time in the country. Unfortunately, the then military president, Ibrahim Babangida announced the annulment of the election on June 23 same year, fueling protests across the country.