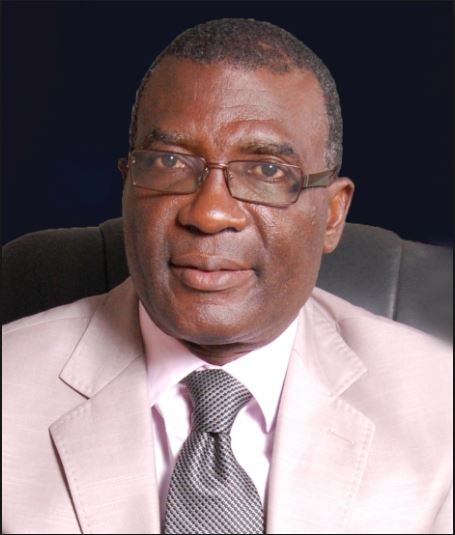 The initiative for Positive Influence on African Youth, a non-governmental, non-political association has conferred a Pan-African Leadership Award on the Visitor of Caleb University, Prince Dr. Ola Adebogun for providing quality leadership by being a worthy example and an inspiration to African Youths.
At a ceremony which held at Caleb University, Imota, Lagos, Prince Dr. Ola Adebogun was also praised for his immense contribution to nation building, community development, effective service delivery to the good people of Nigeria, remarkable patriotism, selfless and dedicated service to God, humanity, Nigeria and Africa at large.
In the presidents' speech read by the vice President of the organisation, Mr. Kwassi Austin, he noted that the initiative aims to build a new Africa where unity, equality and love will be the order of the day regardless of religion, tribe, sex, race, education, or political conviction, while sensitizing the youth on their role towards the socio economic and political development of Africa, creating a cordial relationship between the youth and the leaders of Africa, empowering and emancipating the youth and the less privilege.
"In doing this, we seek to find ourselves role models and mentors in life as we found Prince Dr. Ola Adebogun an erudite and experienced administrator, philanthropist.
"He is a patriotic, distinguished, hardworking and an amiable personality who believes in equity, fairness and justice. He is a man with magnificent experience and an outstanding community, national and human capital developer per excellence.
"Today, Africa is faced with the dire consequence of years of neglect of youths in its racks. This has resulted in various social vices such as conflict, kidnapping, bombings, robberies, which have assumed an alarming dimension.
"With respect to the above, Youth Africa have taken her time to scrutinize Prince Dr. Ola Adebogun who has committed his time to service in accordance to the Pan Africanism Ideology at this point where the youths need to have exemplary leaders as role models and mentor. We have carefully selected your highly respected person sir to honour you with the Pan African Leadership Award.
"Philosophers have interpreted the world; it is left for us to change it.  A society can be moved to greater –height and higher ideas only by the numbers and strength of dreamers, thinkers and doers available in it has been exemplified by Prince Dr. Ola Adebogun.
"He is therefore worthy to receive the PAN-AFRICAN PRIZE FOR EXCELLENCE IN LEADERSHIP, in recognition of his immense contribution", he stated.
In his response, the award recipient thanked the leadership of the initiative for positive influence on African Youth for the award.
He promised to continue supporting African youths seeking quality education , provide mentor-ship and support at all time, stressing that his reason for investing massively in education is to promote human capital development in Africa, thereby positioning the youths academically and intellectually to favorably compete globally.
Prince Dr. Ola Adebogun is the President/Sponsor of International Youth Council.
Notable individuals at the ceremony include the Vice Chancellor of Caleb University, Prof Ayandiji Daniel Aina represented by Prof Nosa Owens-Ibie in the company of other principal officers of the University, The Registrar, Mrs. Folake Okor, School Bursar, Mr. Adesina Abubakre, the Librarian, Mr. Jossiah Adeyomoye, and the University's Public Relations Officer, Mr. Elvis Otobo.
Previous recipients of the prestigious award  are Ogbonnaya Onu, President Umar Al-Bashir of Sudan, Yashua Alkali Hamza, Senator Ben Bruce, The National President of Guild of Medical Practitioner, Senator Shehu Sani, Alh Bamanga Tukur and His Royal Majesty Michael Idakwo Ameh.