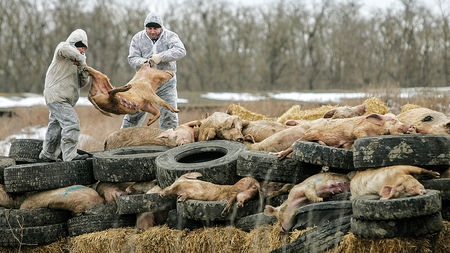 China reports another outbreak of African swine fever
Another outbreak of African swine fever has been reported in China.
According to the Ministry of Agriculture, it said the fever has affected a total number of 185 pigs on a farm in Wuhu city in eastern China's Anhui province
The infection killed 80 of 459 hogs on a farm in Wuhu's Nanling county. Transport of hogs and related products has been banned in the affected area.
Chinese officials are  doing their best to further stop the wide spread of the disease to other parts of the country which has the potential of ravaging the entire country's pig population.
It is reported that China has about 700 million pigs, half the world's pig population and pork is the country's primary protein source.
According to Young S. Lyoo, a professor at the College of Veterinary Medicine at Konkuk University in South Korea, he said ;
"It may be very, very difficult to control this epidemic in China and once it spreads to Asian countries, we could have big social chaos and instability."
African swine fever has no impact on humans, unlike the avian flu and other viruses that cross between species. But swine fever is deadly in pigs, the most virulent strains of the virus kill nearly 100 percent of infected hogs. No vaccine or treatment exists, and the virus is tough to eradicate. It can survive for several weeks in cold or warm weather, in pork products and on surfaces in slaughterhouses and in the trucks used to transport swine.
Chief veterinary officer of the U.N. food agency, based in Rome, Juan Lubroth cautioned against panic, saying it was "too early to tell" how widely the virus had spread and what the impact would be. But he also urged Asia to "prepare for an incursion."
China's first African swine fever cases appeared in Liaoning province in early August. In the following weeks, officials said the disease had spread to three other provinces
Local animal health officials have been tasked with communicating information about the disease to the country's pig farmers. The government has offered a subsidy of $117 for each pig infected with the virus.