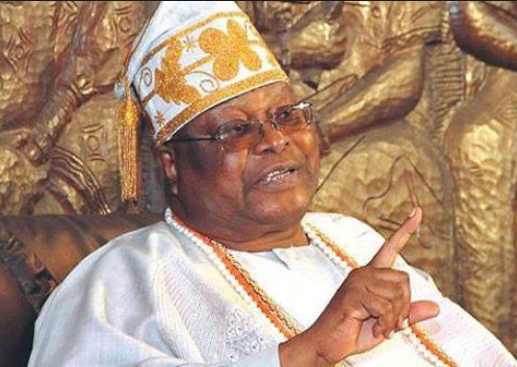 The monarch of Ijebuland, Awujale Oba Sikiru Adetona, has cautioned politicians and their supporters not to turn the the Ojude Oba festival into an avenue to play any form of politics.
The paramount ruler had reacted to the shouts of 'APC! APC!' (All Progressives Congress) which momentarily rented the air from a small group among the crowd that converged on the venue of the event which held on Thursday August the 23rd at Ijebu Ode.
The monarch warned that such act would not be tolerated in subsequent ones.
While warning the broom-wielding group to desist from such an act, arguing that Ojude Oba was apolitical, he challenged whoever their sponsor was to show his face if he was bold enough.
Obviously angry at their action,the Awujale, said he was sure they were not indigenes of Ijebuland and might be a hired crowd.
He said, "Those who were waving the brooms are not of Ijebu extraction. I believe they must have been hired.
"Ojude Oba is over 100 years (old); what you did today has never happened before. Many groups are here but what you have done today has never happened.
"I believe most of you are not members of the APC. We have people from the Peoples Democratic Party, APC, and Social Democratic Party, among others, here.
"Ojude Oba is about culture and tradition. It is non-political. It has been like that since our forefathers started it. It is an abomination for anyone to drag politics into it.
"I want to appeal in the name of God, such an act should not repeat itself here. Those people who hired you, if they are bold enough, they should show their faces."
The monarch also made a reference to messages allegedly posted on the social media of a plan by some characters who had threatened to stone the Senate President, Dr Bukola Saraki, if he ever showed up at the venue of the festival.
Saraki was the special guest of honour at the event.
He rued their action, saying, "I was expecting them to do it."
Awujale, however, prayed for the people of Ijebuland and expressed the hope that the Ijebu State would come into reality soonest.
On his own part, the Senate President, lauded the festival, describing it as a platform for the Ijebu to meet, interact and showcase their cultural heritage.