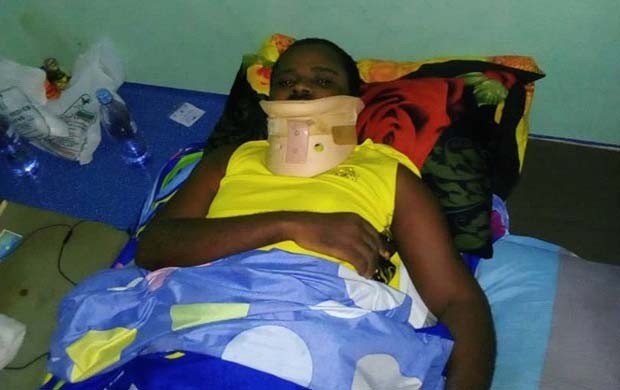 A Gymnastic coach in Anambra state, Benson Udeh  is seeking assistance from well meaning Nigerians to enable him return to his coaching career following an unfortunate incident that broke his spinal cord.
Until the accident, Benson was the coach of the Community Secondary School, Aguata Local Government of the State.
A once vibrant gymnast, coach and inspiration to young football players in Anambra state, Benson Udeh will never forget the excruciating pains he is going through owing to an accident on Nnewi-Oba road in 2016.
The accident occurred when the bus conveying the players and the coach to the final match of a State Football competition in Ihiala had a head collision with an articulated vehicle, plying the Nnewi-Obi expressway.
It's about 2 years now and Benson Udeh is still battling a fractured Spinal cord with an injury requiring a huge sum to repair.
An Indigene of Iwollo community in Eziagu Local Government Area of Enugu state, Udeh's treatment had been fully funded by the Anambra state government, up until November 2017 when the state commissioner for health, Doctor Joesaphat Akabuike informed him that the fund for the treatment has been exhausted.
The Gymnastics coach is now seeking help from well meaning Nigerians to come to his aid, having relocated from the Memphis Hospital in Enugu, he needs to be flown overseas to India, with assurances that his medical challenges will be treated without recourse to further complications.
He needs N16.5m to get premium treatment and get back to his coaching career, as he is currently lying in one position facing up for about eight months, due to lack of funds to get medical care.
Benson Udeh needs your help and will appreciate whatever donation made to his account number displayed on your screen.
*UDEH Benson Chukwudi*
* NO ACCOUNT NUMBER*
*Fidelity Bank Account – 6052142791*
*ECOBank – 0873009459*
*Phone Number: 0903-208-7624*
Help the needy today….