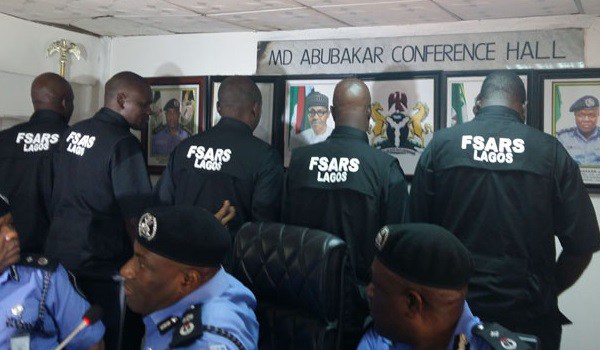 Operatives of the Police Federal Special Anti-Robbery Squad in Rivers State have received a stern warning to abide by the new regulations guiding their operations. The warning was from a visiting delegation from the force headquarters in Abuja.
The federal Special Anti-Robbery Squad is now to limit their operations to tackling armed robbery and kidnapping.
Though a directive from the state Commissioner of Police may still see the officers venture outside these two areas.
The tactical unit has also been barred from setting up stop and search points and getting involved in civil matters.
According to police committee charged with the task of overseeing the ongoing overhaul of SARS in the south-south, severe penalties await any officer who flouts these new rules.
As part of there branding process, SARS officers will now appear in this outfit, the original police uniform bearing their name tags.
A new uniform for them will be unveiled soon. But because it will take more than changing the officers' appearance for this rebranding to succeed, the committee says every SARS officer will now undergo psychological evaluation.
SARS operatives were also warned to desist from involving themselves in politics. The police high command said it will pay special attention to enforce this directive in view of the 2019 general election.