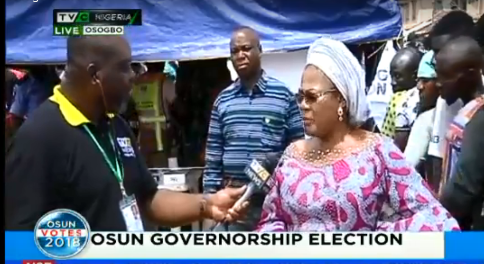 #OsunVotes: I expect victory for my party, says Laoye-Tomori
The deputy governor of Osun State, Mrs Titi Laoye-Tomori has predicted victory for her party, the All Progressives Congress at the end of the governorship election in the state.Mrs Tomori expressed this optimism on Saturday in an interview with TVC News Senior Political Correspondent, Ayodele Ozugbakun in Osogbo. She said the party will come out victorious because APC is a party that understands democracy.
Speaking on the general conduct of the election, the outgoing deputy governor who commended the Independent National Electoral Commission for the peaceful conduct of the  said the card reader machine has been working perfectly contrary to what was the case in 2014. She also applauded the level of maturity displayed so far by the electorate and urged them to sustain the temple.
" I voted in this polling unit earlier in the day but I have been observing things since then. I am happy to tell you that the card reader has been working perfectly well contrary to what was the case in 2014. INEC officials arrived the polling unit early enough and commenced accreditation and voting simultaneously.
"We have been very peaceful here in this polling unit. Both the electorate and party agents have been peaceful in their conduct. I commend all of them," the deputy governor said.
Speaking on her expectations at the end of the exercise, Mr Tomori said she expect victory for her party because the current administration has delivered on electoral promises. " I expect victory for my party because we have very well as a government and the party too understands the importance of democracy."