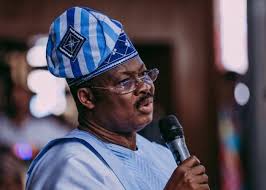 The National Industrial Court sitting in Ibadan has fixed November 14 for a comprehensive report on an of out-of-court settlement in a case instituted by the Nigeria Union of Pensioners, Oyo State Chapter, against Governor Abiola Ajimobi over unpaid gratuities and pension arrears of more than N42bn.
Correspondent Olutayo Famous Cole reports that Justice John Peter fixed the date after listening to submissions from counsel to the parties.
The judge noted that the case should not be allowed to drag for too long, in the interest of the pensioners.
Affected senior citizens, who during their productive years served the state meritoriously are aggrieved about the inability of the government to regularly pay their pensions.  They have therefore taken their case to the industrial court in Ibadan where they hope to get justice.
Many of them said they have suffered untold hardship, as life has not been fair to them.
Quite a number of them can no longer afford their drugs while many of their children have no viable source of livelihood.
Counsel to the Oyo State chapter of the Nigeria Union of Pensioners, Lasun Sanusi said the State government is willing to settle out of court.
The senior Advocate is optimistic that a lasting solution to the industrial impasse might be in the offing.
The trial judge, Justice John Peter has November the 14 for further hearing but he hopes that before then both parties might have settled for an amiable solution to end the deadlock.