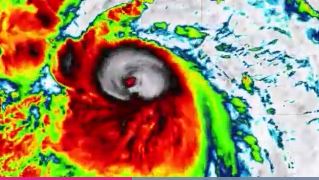 Hurricane Sergio travel towards the U.S, threaten Arizona & Califonia
A new storm has been found heading to the U.S and is most likely to hit Arizona and California.
According to reports, Hurricane Sergio has been classified as a category 3 hurricane and is currently heading towards the Baja California peninsula.
Once it has crossed this peninsula, Hurricane Sergio should then head towards Arizona and into New Mexico over the weekend.
Forecasters believe Sergio will stay as a hurricane for two days, before making landfall in the Baja California peninsula.
Flash floods are predicted in the deserts of the US Southwest and northwestern Mexico as Sergio makes landfall.
Hurricane Sergio is currently located about 800 miles southwest of Cabo San Lucas and is moving northwest at about 9 miles per hour.
According to the latest National Hurricane Center (NHC) report, Hurricane Sergio is packing maximum sustained winds of 140 miles per hour and has a clear eye.
The NHC said: "Additional gradual weakening is forecast during the next several days, but Sergio is expected to remain a hurricane through the middle of next week."
Latest forecast models show Sergio would still be at tropical storm strength when it makes landfall across Baja California.
AccuWeather Hurricane Expert Dan Kottlowski explained why the hurricane may weaken before reaching land.
He said: "Into this weekend, the track of Sergio will take the storm farther out to sea and over cooler waters which will allow gradual weakening".