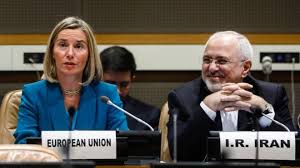 2015 nuclear agreement: Iran asks EU to help keep deal alive
Iran's nuclear chief has warned the European Union of the consequences of failing to follow through with an action to keep the economic benefits of the 2015 nuclear agreement alive.
Ali Salehi disclosed this at a seminar hosted by the EU on nuclear cooperation, aimed at showing its continuing support for the deal.
He believes the EU is "doing its best" and will soon deliver on its promises.