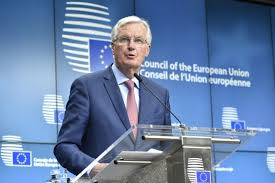 Brexit: EU negotiator Barnier says draft deal is 'fair and balanced'
In the midst of uncertainty over Brexit, the European Union's Brexit negotiator says the draft deal reached with London was "fair and balanced".
Michel Barnier told a news conference after briefing the 27 national EU ministers that they generally approved of the draft divorce agreement reached last week.
He also said a blank in the document on the end date for a possible extension of the transition period, should be resolved for a summit, on Sunday.
That period would keep post-Brexit Britain subject to EU rules – but without a vote – for long enough to allow details of their future relationship to be negotiated.
"We are in fact at the decisive moment in this process. No one, no one should lose sight of the progress that we have achieved in Brussels and in London. I'm pleased that ministers today support the overall package, in particular members states support the draft withdrawal agreement. On the EU side, we'll still need to determine the internal procedures of the Union for agreeing to extend the transition."
"Our idea is that a possible extension of the transition – which would obviously require an agreement with the British side regarding their financial contribution to the extension – cannot be indefinite, it must be set."