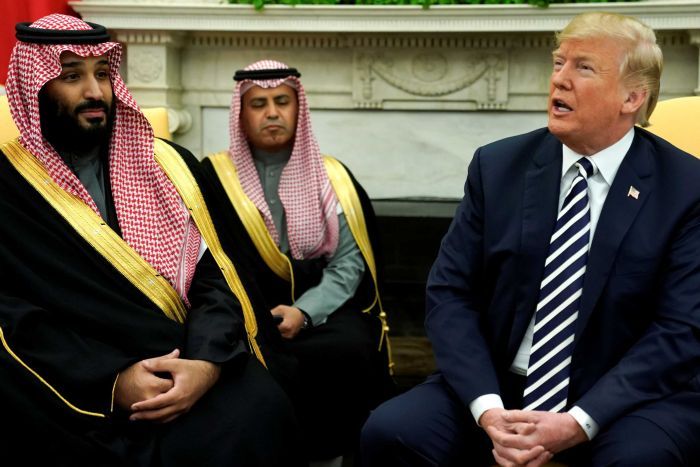 U.S President Trump resolves to stand by Saudi Arabia despite Khashoggi murder
US President,Donald Trump has resolved to stand by Saudi Arabia including the country's powerful Crown Prince Mohammed bin Salman despite the "unacceptable and horrible crime" committed against Saudi journalist Jamal Khashoggi.
Donald Trump said both bin Salman, also known as MBS, and his father, King Salman, "deny any knowledge of the planning or execution of the murder" of Khashoggi.
However, all the facts in the case may never come out, Trump said in a statement put out by the White House Tuesday afternoon that is laced with exclamation points and a wide range of incendiary comments.
In a written statement, Trump said;
"Our intelligence agencies continue to assess all information, but it could very well be that the Crown Prince had knowledge of this tragic event, maybe he did and maybe he didn't!"
"That being said, we may never know all of the facts surrounding the murder of Mr. Jamal Khashoggi. In any case, our relationship is with the Kingdom of Saudi Arabia"
Saudi leaders have been under ongoing international pressure to investigate Khashoggi's killing and hold top Saudi officials responsible for the murder.
A critic of Saudi government policies and prominent columnist at the Washington Post, Khashoggi was murdered inside the Saudi consulate in Istanbul on 2 October after he went inside the building to retrieve paperwork.
Khashoggi's Washington Post editor, Karen Attiah, strongly condemned Trump's statement on Tuesday.
"Trump's statement on Saudi Arabia is full of lies and a blatant disregard for his own intelligence agencies" she said in a tweet.
"It also shows an unforgivable disregard for the lives of Saudis who dare criticize the regime. This is a new low."