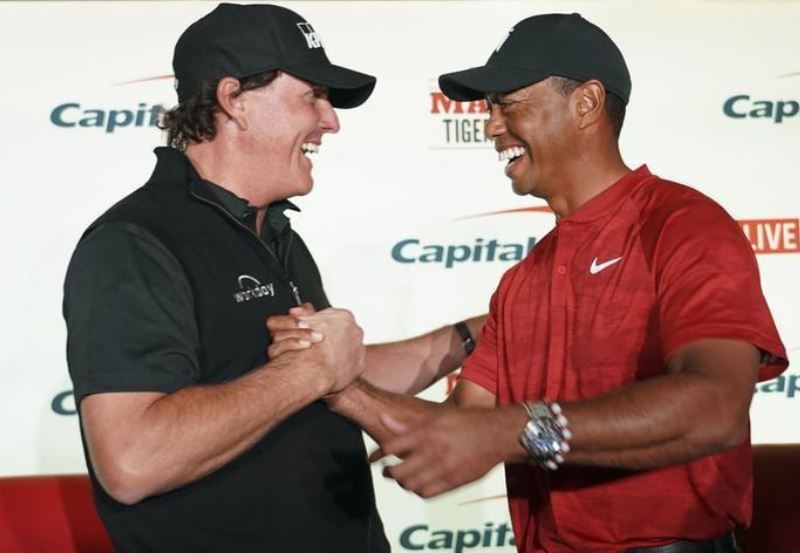 Win over Woods worth more than $9 million – Mickelson
Bragging rights will be worth more than the $9 million prize money to Phil Mickelson when he takes on Tiger Woods in an 18-hole winner-takes-all pay-per-view showdown in Las Vegas.
For two of the world's richest athletes the prospect of pocketing millions for playing an afternoon round at Shadow Creek Golf Club on Friday may not set the heart racing.
But for Mickelson the thought of forever being able to wave that cheque in Woods' face was something priceless that left him giddy with excitement ahead of the Thanksgiving holiday clash.
"It's great to win the $9 million but I just don't want to lose to him and give him the satisfaction because the bragging rights are what is going to be even worse than the money," Mickelson said at a news conference on Tuesday to drum up interest in "The Match".
"Every time I see you I want to be able to rub it in. I want to sit in the Champions locker room at Augusta and talk smack. I want that."
That was about as close as Woods and Mickelson, two of the most fascinating and successful golfers of their generation, came to trading shots as they attempted to help sell the pay-per-view duel which can be seen for a modest $19.99.
Despite their best efforts the obligatory trash talk around the golfing cage match has been forced and limp.
Fifteen years ago the dislike was real and palatable, the jabs they took at each other stung.
But that once frosty relationship has thawed to the point that they play practice rounds together.