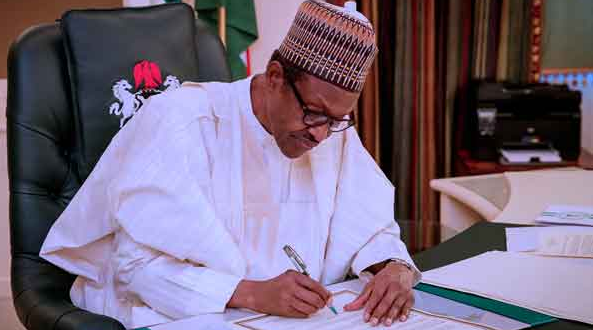 President Muhammadu Buhari has again declined assent to the Electoral Amendment Bill for the forth time.
The president had declined assent to the bill in previous times, citing "drafting issues."
In a letter to both chambers of the National Assembly, President Buhari said passing a new bill with elections close by, could 'create some uncertainty about the legislation to govern the process.
Addressing Journalists on Friday at the Presidential villa, Buhari's Senior Special Assistant on National Assembly Matters ( Senate), Senator Ita Enang, revealed that the president refused to sign the electoral bill, without stating the reasons for his refusal.
He simply said, "The president has taken a decision in a accordance with the powers vested in him according to the constitution.
"And by convention, that decision contained in the communication can only be revealed by the person to whom that decision is addressed."
Enang added that the president has assented to the National Open University establishment amended act.
CUPP reacts
Meanwhile, the Coalition of United Political Parties on Friday faulted President Muhammadu Buhari's decision to again withhold assent to the 2018 Electoral Amendment Bill.
The coalition in a statement by its first national spokesperson, Imo Ugochinyere, said Buhari's latest action portrayed him as a jittery President who is afraid of electoral defeat and yet desperate to cling on to power.
It said a President who knew that he did not perform should not be surprised and jittery that all security reports indicated that he would suffer electoral defeat in the hands of the coalition's consensus candidate, Alhaji Atiku Abubakar.
The statement read, "President Buhari has expectedly failed again to take advantage of the rare opportunity of the Electoral Amendment Bill to write his name in gold as the President that signed the laws that guaranteed electoral credibility in Nigeria.
"But yet again, as usual of him, he failed to rise to the occasion, being blinded by ambition and the love of the perks of office.
"It is an act of clear desperation that the President had shown. For each of the four times the Electoral Amendment Bill was presented to him for assent, he waited until the last day of his constitutionally allowed 30 days.
"Nigerians should also be reminded that throughout the amendment process, President Buhari never made any suggestions or proposals to the National Assembly for the improvement of our electoral process but kept delaying and indulging in unnecessary hide-and-seek until this last minute.
"Rather, the President is willing to allow Nigeria witness her most violent elections when he had the opportunity to sign the law which guarantees the freest and most credible elections in Nigeria's history."
Fayose reacts
Similarly, former governor of Ekiti State, Ayodele Fayose has questioned President Muhammadu Buhari's reluctance to sign the Electoral Act (Amendment) Bill 2018 into law.
Fayose on his verified Twitter handle, @GovAyoFayose reacted to the news of  Buhari declining his assent to the bill for the fourth time.
He tweeted, "What is President Buhari's fear concerning this Electoral Bill? Can the interest of a single individual be placed above that of Nigeria and its people? Is he saying that even his party members in the National Assembly were wrong to have passed the Electoral Bill? May God save our country."