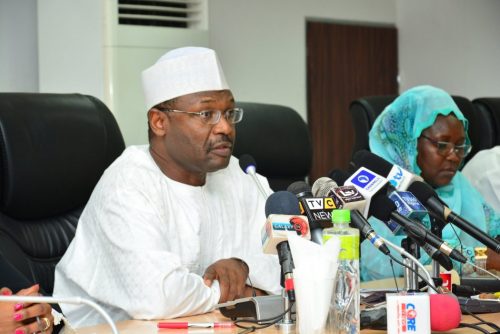 The Independent National Electoral Commission says it will do a nationwide pilot electronic transmission that is e-collation of results in the forthcoming general elections.
INEC Chairman, Mahmood Yakubu, disclosed this at the Commission's regular quarterly meeting with the media in Abuja.
He said for the Commission to do full electronic transmission of results there must be a law backing it.
The INEC chairman called on media organisations to sensitise registered voters who are yet to collect their Permanent Voter Cards to do so.
Meanwhile, INEC said manual accreditation of voters will be considered if the electronic card reader fail during the 2019 general election.
INEC says where the biometric authentication fails, the voter will be required to thumb print a box next to his/her picture on the register and to enter his/her mobile telephone number before proceeding to vote.
Political Analyst, Thomas Wilson Ikubese has applauded INEC's decision which would ensure voters are not dis enfranchised.
INEC to recruit 24,000 ad hoc staff
And INEC says it will recruit 24,000 ad hoc workers for the forthcoming general election in plateau State
Resident Electoral Commissioner, Halilu Pai confirmed that those to be recruited, would serve as Presiding Officers, Assistant Presiding Officers, Supervisory Presiding Officers, Collation Officers and Returning Officers.
He said that the ad hoc staff would undergo rigorous training after which oaths would be administered on them to guide against compromise.
Anambra Student Unions embark on sensistization campaign
Meanwhile, a Coalition of different student unions in Anambra state has embarked on massive voter education, challenging youths in the state to assert their voting rights and shun financial inducement.
The student unions drawn from the four tertiary institutions in Anambra promised to carry out their sensitisation around factors that may compromise the 2019 electoral process in the state.
They insist on equipping the youths with the right information in order to vote in credible candidates in elections and ensure their active participation in the coming poll.