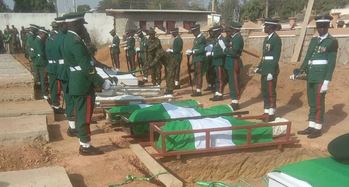 An army officer and thirteen soldiers who were killed on Christmas Eve by suspected members of the Boko Haram sect along the Maiduguri – Damaturu road have been laid to rest by The Nigerian army.
The troops were laid to rest at the Common wealth Cemetery in Kaduna in line with military tradition.
They were of One Division of the army deployed to join their colleagues in the northeast to keep the peace.
The army appreciates their service at protecting the nation's territorial integrity.
Top brass of the force say their service, which has led to paying the supreme sacrifice would not be left unrewarded.