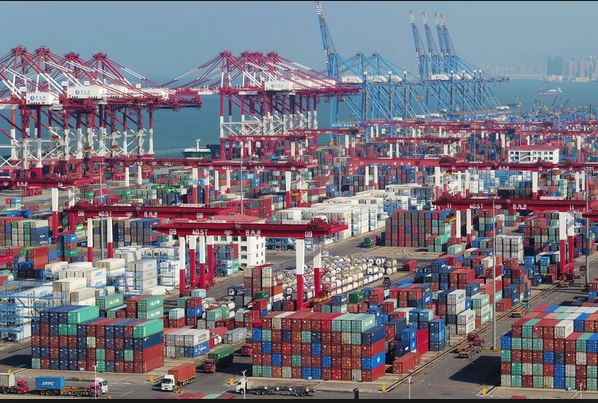 China's exports shrink, raising risks to global economy
China's exports unexpectedly fell the most in two years in December, while imports also contracted, pointing to further weakness in the world's second-largest economy in 2019 and deteriorating global demand.
Adding to policymakers' worries, data on Monday also showed China posted its biggest trade surplus with the United States on record in 2018, which could prompt President Donald Trump to turn up the heat on Beijing in their bitter trade dispute.
Softening demand in China is being felt around the world, with slowing sales of goods from iPhones to automobiles, prompting warnings from the likes of Apple and from Jaguar Land Rover, which last week announced sweeping job cuts.
The dismal December trade readings suggest China's economy may have cooled faster than expected late in the year, despite a slew of growth-boosting measures in recent months ranging from higher infrastructure spending to tax cuts.
Some analysts had already speculated that Beijing may have to speed up and intensify its policy easing and stimulus measures this year after factory activity shrank in December.
China's December exports unexpectedly fell 4.4 percent from a year earlier, with demand in most of its major markets weakening. Imports also saw a shock drop, falling 7.6 percent in their biggest decline since July 2016.
Analysts had expected export growth to slow to 3 percent with imports up 5 percent.
"Today's data reflect an end to export front-loading and the start of payback effects, while the global slowdown could also weigh on China's exports," Nomura economists wrote in a note, referring to a surge in shipments to the U.S. over much of last year as companies rushed to beat further tariffs.
"The export growth print also suggests that the recent strength of the yuan might be short-lived; Beijing will perhaps be more eager to strike a trade deal with the U.S.; and that policymakers will need to take more aggressive measures to stabilize GDP growth."
Net exports had already been a drag on China's economic growth in the first three quarters of last year, after giving it a boost in 2017.