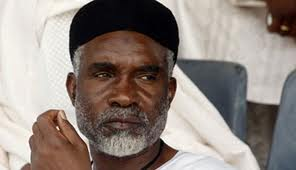 Former Adamawa State Governor, Vice Admiral Murtala Nyako has embarked on consultations with traditional rulers and political leaders in all 21 local governments of the state.
His goal is to dislodge the incumbent Governor Jibrilla Bindow in the coming election.
Correspondent Owolabi Adenusi reports that its a few months to the general election, and the former Adamawa governor has began mobilisation of major political actors against the APC gubernatorial candidate, Jibrilla Bindow in all the three senatorial districts.
Nyako whose son, Abdul Azeez is in the governorship race under the platform of the African Democratic Congress (ADC), appealed to the electorate to vote credible candidates in 2019.
He said he was happy with the reception accorded him by people at the grassroots since he commenced his tour of local governments.
State Chairman of ADC, Yahaya Hamman-Julde, says the Nyako
administration was popular because of its people-oriented programmes.
But the State Working Committee of APC said it was not rattled by Nyako's
anti party move, insisting that Buhari and governor Jibrilla Bindow will
win in the forthcoming general election.
Political analysts believe that without the backing of former Governor Nyako, the party may find it difficult to win the state.