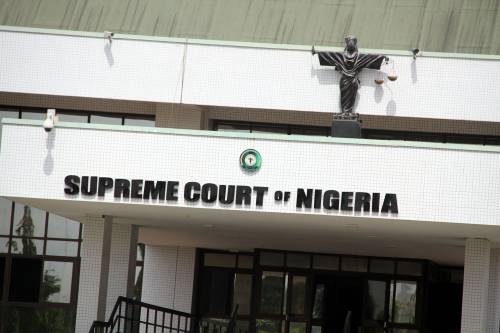 BREAKING: Supreme Court strikes out APC's appeal against judgment barring its candidates in Rivers
The Supreme Court has struck out the appeal filed by the APC challenging the judgment of a high court in Rivers State, which barred the APC from conducting any primaries in the state to nominate candidates to represent the party in the forth coming election.
In a unanimous judgment delivered by justice Aliyu Sanusi the Apex Court held that there was substance in the preliminary objection raised by counsel to Ibrahim Umah and 22 others that the appeal filed by the APC has become an academic exercise.
While addressing the court, Lateef Fagbemi, Counsel to APC, urged the Supreme Court to nullify the judgment of a high court in Port-Harcourt on the ground that the trial court had no jurisdiction when it entertained the suit.
He also claimed that since the trial court had no jurisdiction its judgment in the matter amounted to a nullity and should be set aside.
Fagbemi specifically asked the Supreme Court to invoke section 22 of the Supreme Court act and give final judgment in the matter to end the multiple cases arising from the rivers state APC primary election.
However, in his own argument, counsel for the respondent, Henry Bello urged the apex court to dismiss the appeal of the APC on the ground that it has become a mere academic in nature.
He submitted that by the decision of the apex court of February 8, 2019 which upheld the decision of the high court in Port-Harcourt and barred APC from conducting primary election, the case of APC had died and should be buried.
Bello told the court that the respondent led by Ibrahim Umar who were aggrieved by the violation of the Electoral Act and the 1999 constitution in the manner the APC conducted the primary election in Rivers,  had secured a consent judgment at the high court and that the judgment still stands.
He urged the apex court that to hold that the instant appeal has become academic exercise.