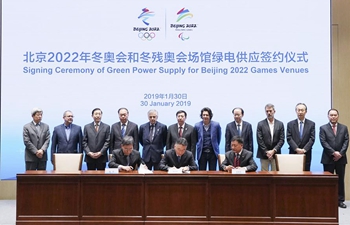 Chinese study on quantum communications wins Newcomb Cleveland award
A study on quantum communication made by a group of Chinese scientists has been awarded the 2018 Newcomb Cleveland Prize in the United States.
The American Association for the Advancement of Science (AAAS) announced that a team of 34 Chinese physicists led by Pan Jianwei with the University of Science and Technology of China has won the award that will be delivered on February 14.
This is the first time that a Chinese team wins the prize with its home-grown research.
Pan and his Chinese colleagues used a satellite called Quantum Experiments at Space Scale (QUESS) or Micius to send entangled photon pairs through the near-vacuum of space, measuring the quantum keys at receiving stations over 1,200 kilometers apart.
The Newcomb Cleveland Prize, AAAS' oldest award, has honored the most impactful research paper published in the journal Science since 1923..