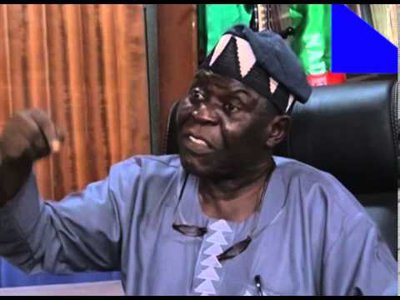 The Coalition of Democrats for Electoral Reform, CODER, has condemned the intended vilification and spirited efforts to discredit the independent National Electoral Commission, INEC, and security agencies by some political parties.
The group in a statement by it's convener, Ayo Opadokun, reminded the political parties that their unproven allegations against national institutions like INEC and security agencies, has the negative tendency to cast doubt on the credibility of the coming Election. CODER said most of these political parties do so for selfish reasons.
"The attention of the Coalition of Democrats For Electoral Reform, CODER has been drawn to the intensed vilification and spirited efforts to discredit the Independent Electoral Commission, INEC and Security Agencies by some Political parties perhaps for selfish and dubious interests.
"CODER wishes to remind all political parties and politicians that their unproven allegations against national institutions like INEC and security agencies has the negative tendency to cast doubt on the credibility of the coming election even before they are held.
"The regularly wide and unverifiable allegations against public institutions will be Counter-productive and harmful to Nigeria and the politicians hereafter, because the unfounded allegations can make local and international public, including development partners to be suspicious of the credibility of the results of the coming elections.
CODER wishes to remind the current political operators to put national interest first before their personal political interest so that Nigeria can earn her deserved respect, dignity as a democratic State inspite of the obvious inadequacies yet to be settled by the Nigerian State in its march to Statehood.
"CODER would equally ask the genuine international development partners-western powers not to unduly take side in Nigerian electoral contest by their seeming indication of reading ulterior motive to the suspension of Justice Samuel Onnoghen who has in his own statement admitted that he forgot to fill the mandatory Asset Declaration form as at when due. He also confessed to have not declared that he had domiciliary accounts containing huge foreign currencies. Will the Chief Justice of the USA, UK, Germany, France etc. after such monumental infraction by his No. one Judge be allowed in office because of a pending election? They should be fair to Nigeria as equal partners in the international diplomatic arena.
"American General Prosecutor, Bob Mueller has spent over two years probing the allegations of Russian interference in the United States 2016 Elections with myriad of convictions of President Donald Trump close Aids and Friends for false testimonies, criminal conducts even before Mueller finally concludes his works as to whether or not there was collision between Trump, Trump Organisation and Russia.
"CODER is asking Nigerians to prevail on current political operators to play by the rules in making genuine complaints to improve the works of the government institutions and not to destroy them for partisan purposes as they seem to be playing out now. Most of the current political operators were friends, surrogates and loyalists of successive military regimes. Those of us who lost our sweat, liberty and lives for the restoration of democracy to Nigeria, are disappointed with the current level of partisan politics that tend to be devoted much more to selfish acquisition of public common wealth and the neglect of genuine service to Nigerians.
"Nigeria must be assisted to grow its democracy by Nigerians and its foreign friends", he stated.