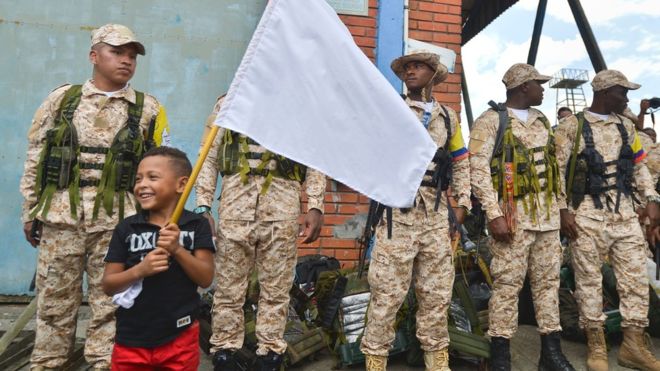 Colombia Farc: Dissident leader Rodrigo Cadete killed in military operation
A Colombian rebel leader who refused to demobilize under a 2016 peace deal with the government was killed by the armed forces on Saturday.
The man, known by his war names, Rodrigo Cadete was a top member of a faction of former rebels from the Revolutionary Armed Forces of Colombia (FARC) who refused to adhere to the peace agreement.
Defense Minister Guillermo Botero said at the same event that Cadete had been bringing together dissidents to form a new group and that nine other guerrilla fighters were killed and others captured.
The dissidents have an estimated 1,800 combatants spread across about 30 units.
Some 13,000 FARC members, including 6,000 combatants, demobilized under the peace accord. The group is now a political party, with 10 seats in Congress guaranteed through 2026
The United Nations Security Council has agreed to review arms embargo measures on the Central African Republic by the end of September, if the country makes progress in areas including the reform of its security sector and management of its weapons.
The country has been under a U.N. arms embargo since 2013.
Weapons shipments to the government must be approved by the U.N. Security Council's CAR sanctions committee, made up of the Council's 15 members.
Central African Republic has long wanted the arms embargo restrictions on the government, lifted.
French U.N. Ambassador, Francois Delattre says the resolution adopted, shows the council was open to that.
Central African Republic has been battered by violence since 2013 when mainly Muslim Selaka rebels ousted then president Francois Bozize.