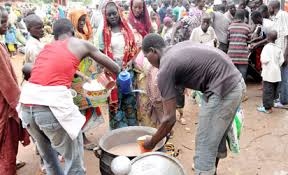 Some Internally displaced persons in Borno State on Tuesday protested shortage of food in their camp.
The IDPs from Teachers Village Camp in Maiduguri went on rampage, as they complained they had been neglected by government.
They said only three in ten people in camp got food cards that were issued by the Red Cross earlier on Tuesday.
The Teachers Village Camp is one of the largest, with 20,000 persons, including most of those recently displaced from Baga in Borno State.